The Future of Coaching?
   The Future… hmmmm….
A hazy gaze into the distance.
A hand gesture to wipe away the clouds of uncertainty.
A tone of voice that invites you to dream and explore the possibilities.
A slight frown as we consider the dark side of what the future might bring.
That's more or less how our latest podcast guest Jascha Renner reacted to a question about the future of coaching & psychedelics yesterday.
I realised that in the general full-on-ness that is my life at the moment, I have neglected making time to think about the future.
I used to have lots of time to ponder… And as I say that, my dad's wise words once more circulate in my mind: "Yannick, one doesn't have time. You make time."
And so I make time.
One of those times was when I interviewed Hetty Einzig for Animas' Coaching Uncaged podcast to revisit her 2018er book "The Future of Coaching".
We touched on so many topics, and reflecting on our conversation there were so many more doors to open, and I now have a whole set of questions that I invite you to ponder, such as:
– How will the predicted emergence of General Artificial Intelligence impact the world of coaching? Will coaching clients be able to build an effective working alliance with an AI? May AI coaching eventually become viable competition to coaches entering the field, and perhaps even to seasoned professionals? What are the possibilities?
– How far will the blurring of lines continue between coaching, therapy, mentoring, consulting, teaching and other practices?
– The future is BANI (Brittle, Anxious, Non-linear and Incomprehensible) according to Jamais Cascio. What will the role of coaching be 10, 20, 50 years from now?
– Can the human mind bear a world where technological paradigm shifts of "The Internet" proportions occur several times a year?
– What must we learn as coaches to help people navigate such a future?
I could go on… And I will, but not as part of this Nugget. I hope you will join me in making some time to think for yourself (in or outside of a coaching space).
And I'm always keen to know: What are you pondering when you think about the future?
New Content: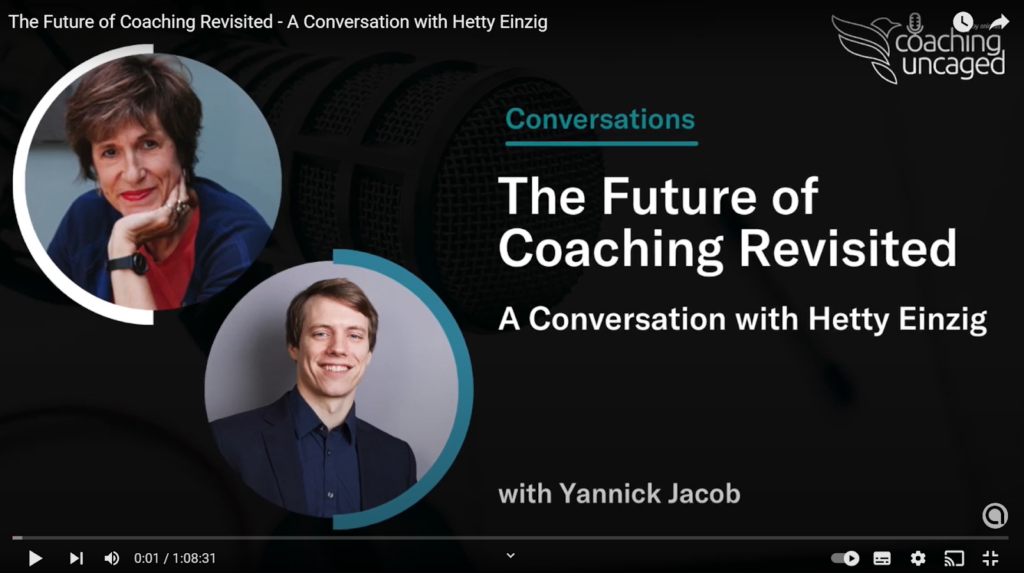 Hetty is so inspiring! Here are a few of the subjects we touch on during this conversation:
– Why a coach needs to understand themselves
– Whether the coach is ever a neutral instrument
– New ideas on the future of coaching
– The place of the body and somatic intelligence
– Contested realities and postcolonial dimensions in coaching
– The place of ethical responsibility in coaching
– Becoming grounded as a coach for robust partnering
– BANI vs VUCA frameworks for thinking
– The place of knowledge and sharing in coaching
– The place of training within coaching
– The role and place of hope for the future
As always, thank you Animas for making these conversations possible. Btw, they just revamped their website completely, and have now fully integrated the Supervision Diploma that I'm teaching on. Well worth checking them out!
You can listen to my conversation with Hetty here.
___
That's it for this week! If any of this resonates, make it swing! I'd love to hear from you 🙂
And if you'd like to get these Nuggets straight into your inbox, you can sign up for weekly emails, or get the full buffet once a month(ish).
With Love
Yannick