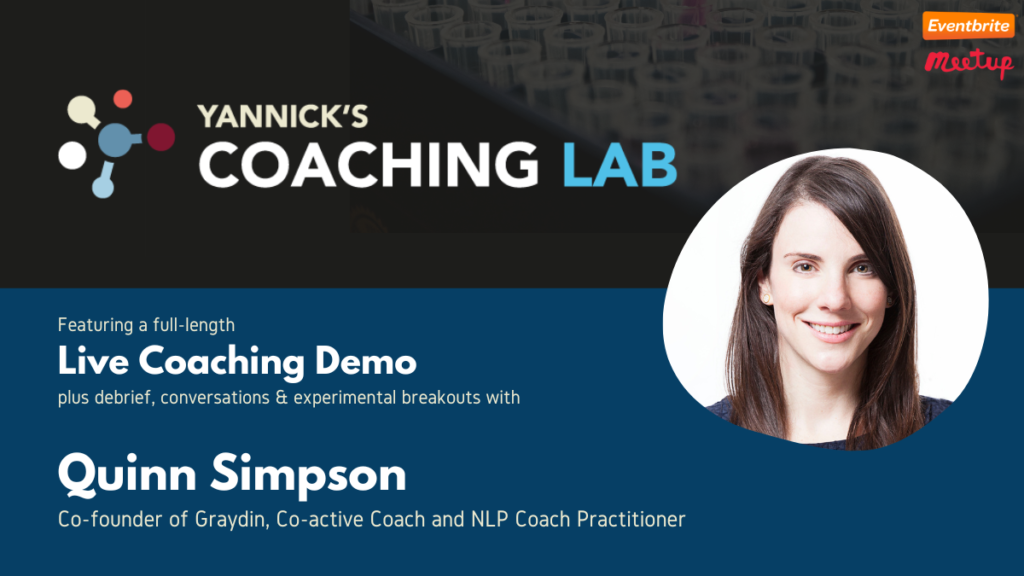 ---
Yannick's Coaching Lab #34 — Quinn Simpson
Lab Report by Natalie Fraser
Summary
Quinn Simpson is the co-founder of Graydin, an enterprise that brings coaching into education to coach as well as train teachers and parents in coaching skills in an effort to create coaching cultures at schools. Quinn uses her own integrative method, has trained as a co-active coach and draws on NLP.
Quinn has known her client previously through Graydin for some years, where her client trained and now uses coaching training in her own school. Quinn and her client know each other as friends, and have worked together in coach-coachee & training settings. Quinn's client, a self-proclaimed overthinker, has a new job and is seeking coaching on management issues.
Key Insights
Partnership Agreement
Quinn started the session with a quick partnership agreement lasting a couple of minutes, asking her client what she hopes to gain from the session and what is important for her within the coaching relationship. Her client expressed that some triggers may come up during the session, and Quinn asked how her client would like her to respond to these.
Narrow The Focus
Quinn's client began to explain that she is experiencing a significant transition at work and will need to manage a new group of people (nearly all male compared to previously nearly all female) at work. Quinn interrupted her client after a few minutes, reflecting that there is a lot going on and asking her client to narrow the focus down to its core. This gave her
client a moment to pause and the focus was revealed to be "I want to have confidence to be a good manager and manage myself". This intervention was used a few times during the session to help the client focus. When it didn't quite work, she simply acknowledged that she had been trying and failing to do so, which was a big insight for the client.
Sit Back
In another effort to focus, Quinn asked her client to physically sit back, reflecting how much is going on for her, and in her body, and how fast she's talking. Quinn asked her client to consider what she would like to have gained at the end of the session today and where she's at with everything in the present moment of now. Clarity on her next steps was found to be the client's target for the end of the session.
Mindmap
In an effort to organise the many thoughts and topics that emerged, Quinn showed her client a basic mindmap that she had been creating with pen and paper whilst her client spoke, sharing the mental image of a puzzle and inviting her client to expand on this mindmap. In the post-demo discussion it was explained that this also allowed Quinn to have a moment to process all the information which had become challening to make sense of. Quinn said she would also at times share such mindmaps with clients after the session.
Sharing Mental Images
Quinn shared mental images and metaphors that came to her during the session, to use story and creativity to express her interpretations of her client's situation. This based on her intuition and the question is not whether it's okay to disclose this, but rather which of the infinite thoughts, feelings and images that emerge feel relevant to the coaching relationship and goal. There is a trust that what emerges int he coach within the relationship is relevant and potentiall valuable. These are also often memorable for the client, and stay with them beyond the session.
Slow Yourself Down and Listen
Quinn expressed her overwhelming wish would be to slow her client down, reflecting on her own energetic experience of being on this journey with her own son. She asked her client to actively slow down, and listen to herself. This gave space for her client to listen to what she needs, to breathe, and reflect on aspects of herself that she would like to develop and why.
Session Achievement Check-In
Quinn reflected back to her client that she feels her client is more aware of how she needs to 'be' moving forward more so now than at the beginning of the session, before expressing that she's curious and is 'stuck' about what her client needs to work on moving forward. For example, in this case listening more, and building resilience to how she intuitively responds
to feedback was revealed to be important. Quinn asked her client to reflect on who she already does this with and what situations she already succeeds at this in life, (drawing on the NLP Model of Excellence) making a suggestions based on their personal relationship that her client already does this with their child.
Acknowledgements
On occasion throughout the session, Quinn expressed many complimentary observations of her client's personality, assets, skills, and character. This was responded to positively by her client, who in the introduction expressed that Quinn calling her an "amazing person" had been an important moment in the development of their friendship and coach-coachee relationship.
Committment to Practice
Quinn asked her explicitly "will you practice this on Monday?", making a consensual agreement with her client to implement the learnings gained during this session at a specific time and place.
Quinn brought the session to a close asking what her client has taken away from this session, inviting her client to have space to list the surprising and stand-out realizations that had been gained. This included reflections about her character, her management style, and her future aspirations.
Key Take-Aways
Quinn's client found the session very open, easy, and lacking judgement. That both the client and the coach felt open and comfortable was expressed to be very important. Laughter and the sessions not being overly serious was an important part of what Quinn brings and what Quinn brought out of her client that enables this atmosphere.
When Quinn explicitly expressed how her client was coming across were stand-out moments for her client that felt really valuable and clear.
Quinn shared her view that the best coaching conversations do have a clear topic. Quinn reflected that finding a clear direction of coaching clarity during the session was something she held on to, which was partly related to the Graydin model. In hindsight she questioned whether she was holding onto this too much, and may have been influenced by the desire to demonstrate something to the viewers. After trying to pause her client three times and find clarity, Quinn shared in the post-demo discussion that she changed approach and let her client be herself authentically.
Graydin's coaching model is "heart, head, step" which she always consciously tries to lean into.
When working with clients who talk a lot, checking in with them throughout the session is hugely important. This gives the client a moment to pause, and to review the process of the session.
Quinn reflects that coaching the person not the problem is most important.
For Quinn, formulaic coaching with a predetermined agenda is something she's strongly averse to. Being present with the client, seeing what unfolds naturally, and drawing on a diverse range of training and approaches is most important.
Model of Excellence and Metaprogrammes are an NLP skill that Quinn consciously uses in her sessions.
For Quinn, coaching is a style of conversation that can be beneficial with people from all ages, backgrounds, etc. and in many settings.
Coaching people with dual-roles (friends, family, colleagues, etc.) is an option that works best when boundaries are held in awareness and when there is a mutual agreement about when the 'coaching role' is being taken.
Quinn prefers coaching without video because this allows her to listen more deeply to her clients.
Quinn values 'post-pandemic' attitudes that allow her to alter her perspectives on what matters, such as things not having to be perfect.
Quinn reflected the process of becoming 'Coach Quinn': you train in coaching, you qualify as a coach, then you give yourself permission to become your own coach. You stop 'doing coaching' and you start' being a coach'.
You don't need to use the whole coaching session time allocated if the session naturally closes sooner, but being open about this with clients can be important.
---
Watch the recording of this session by joining the Lab as a member: www.GoCoachingLab.com
A list of all available recordings can be found at https://bit.ly/LabRecordings
---
This Lab Report was authored by Natalie Fraser
Natalie is an existential Counselling Psychologist, specialising in trauma and transformation, and curious about coaching. Interested in exploring life's Big Questions? Find out more at: www.existentialofferings.com