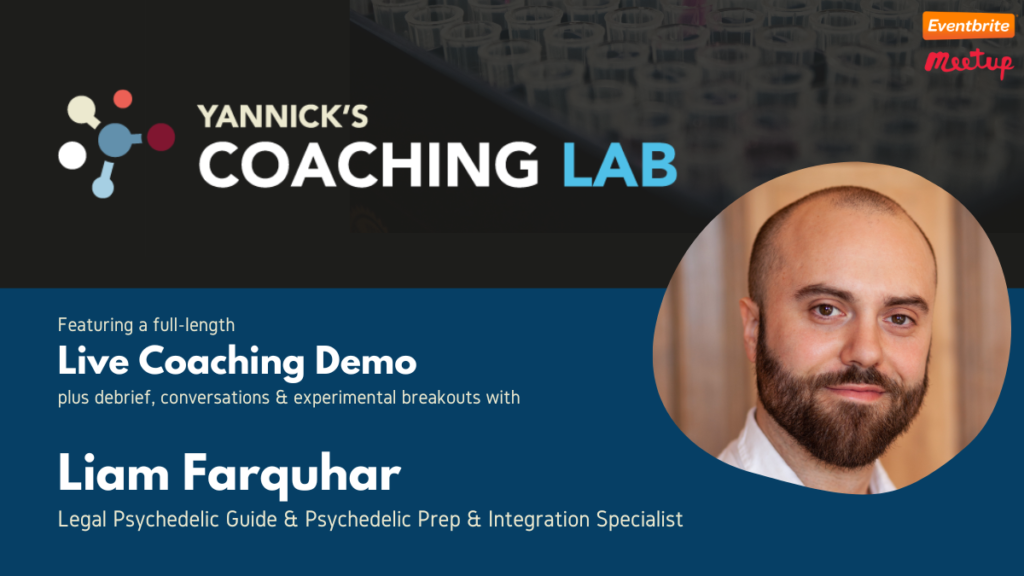 ---
Yannick's Coaching Lab #33 — Liam Farquhar
Lab Report by Natalie Fraser
Summary
Liam Farquhar is based in London and is a legal psychedelic guide, psychedelic prep, and integration specialist. Liam and Niall have known each other for around four years, connecting over the conversation of how coaching and psychedelics may work together. Liam has created his own curriculum of 'therapeutic coaching' drawing on a number of approaches which he integrates in his work. Somatic Experiencing, IFS, and Mindfulness are some of the strongest influences in his coaching work and personal life, Liam has created a 3 month protocol of 9 sessions, which is currently under development.
www.brighterpathways.co
Liam's client has had two altered state experiences recently that she is interested in exploring in this coaching session. Liam and his client have never met prior to this session other than an email briefly familiarizing themselves.
Key Insights
Resourcing Bridge
Liam's client expressed some nervousness about the session. He began the session by starting a resourcing experience that he led using a breathwork mindfulness exercise, 'bridging' them both into the coaching space. This lasted approximately 3-4 minutes. Following this, Liam invited his client to look around and notice the space, psycho-educating
that "curiosity is the opposite of fear" from a somatic experiencing perspective. Following these exercises, Liam checked in with their client who expressed feeling calmer and lighter, before expanding this by asking his client to notice what difference in their body provided them with this knowledge.
Client-led Contracting
Liam invited his client to consider what this space could best be used for, outlining that he is there to support her in any way she needs. Liam's client briefly summarized two recent altered state experiences which were related to her difficult pregnancy and the birth of her child. Both client and coach swiftly noticed that these experiences are interlinked, and Liam provided IFS psycho-education about the interlinked nature of parts.
IFS & Mushrooms (Psylocibin) Mediator
Liam's client has had a close relationship with mushrooms during her entire adult life. During her pregnancy she was unable to take mushrooms and experienced depression and medical challenges that were severely debilitating, contrasting with the spiritual extroverted person that she had previously been and the 'Earth Mother' that she'd imagined her pregnant self would be. Her recent experience with mushrooms was the first since her pregnancy, and during this experience she found a deeper experience of love for her new body and her experience of motherhood.
Using IFS interventions focused on parts and curiosity Liam invited his client to explore the polarization between the loving mother and the mother who is experiencing challenges with motherhood. Judgement from any parts was invited to be recognized from a place of curiosity.
Identifying and Naming Parts
Two parts were identified and named: 'Resistant Mother' & 'Embracing Mother' – both who were understood to be a 'loving mother'. Liam led a breathwork meditation for his client to enter into a state where these parts could be explored. The Resistant Mother was found to be present in the moment, due to his client hearing their baby in the other room. Somatic
Experiencing explorations invited focus on what parts of the body were present for the Resistant Mother, before more deeply identifying shapes and outlines to describe this part.
Curiously Meeting Judgement
Liam invited his client to notice any parts which were judgmental, which his client was able to identify. Liam welcomed this part, and asked the part to give them space to talk. Their client expressed the part had agreed and "gone to sit in the corner", which Liam thanked it for. This enabled the Resistant Mother to be explored, with the intention set to get to know it more deeply. The Resistant Mother appreciated being heard, and interventions found that it holds a fear of losing their identity and becoming enmeshed in their son's identity before he grows up. Liam invited his client to thank this part for its efforts to protect her, and consider how old this part is.
Listening to The Self
The Self has infinite capacity, no judgement, no agenda.
Liam spoke to the self and the parts themselves throughout the session, not only in the present but in their past ages at significant points in his client's past.
Compassion towards all parts was encouraged by Liam, who then proceeded to invite his client to notice within her body how these parts felt when receiving compassion from The Self. A still moment was taken to let this compassion 'land' with each part from The Self.
The Self identified a core traumatic moment towards the end of the session, which Liam held the space for. Liam later expressed that curiosity is the foundation of IFS, and he has become able to identify whether clients are in 'Self' (safe to explore trauma) or in a 'part'– this awareness is gained by IFS training and continuous checking-in with client.
There can be 'self-like' parts which may appear as helpful, however, they can be distinguished from the Self by it's lack of agenda.
Recommendations For Ongoing Work
Liam made an effort to time-keep and notify his client throughout the session at the start, middle, and 5 minutes before the end.
Liam recapped areas that may benefit from his client further exploring them in the future, including the 'Embracing Mother' part and the potential for dialogue between these two parts.
The session was closed by thanking the parts for showing up, and committing to show up for them in future when they need.
Key Take-Aways
Liam's client found the starting exercise and Liam's presence very helpful to make her feel safe and present, alleviating the anxiety that she felt at the start. The client also found the tools that Liam offered very helpful, especially the compassion. The co-creation of the space (rather than overly client-led or coach-led) was also identified as a positive and important part of the experience.
Liam expressed that in order for him to do this work he has to 'be in Self' which was more challenging being aware that he was doing a demo and had desire to show the audience some psychoeducation of the IFS model. He would've liked to explore the age of the parts – parts being stuck in time and the IFS work 'updating' these parts, & asking the part how old they found the Self – parts often not realizing that the Self is older and more resourced.
Liam expressed that IFS is almost like a shamanic inner guided process; an evidence-based journey of discovery.
A key element of IFS is how to guide the client to be 'in Self'. Liam draws on Polyvagal and Somatic Experiencing understandings, and says: "the physiological process of moving into the heart-centered parasympathetic ventral vagal is a gateway for someone to become 'in Self'".
On working 'therapeutically' in a 'coaching' setting, Liam recommends that coaches work ethically within their training experience. "If you are working with people you are working with trauma". Integrating trauma-informed training approaches into coaching can offer the coach an important and necessary skillset.
---
Watch the recording of this session by joining the Lab as a member: www.GoCoachingLab.com
A list of all available recordings can be found at https://bit.ly/LabRecordings
---
This Lab Report was authored by Natalie Fraser
Natalie is an existential Counselling Psychologist, specialising in trauma and transformation, and curious about coaching. Interested in exploring life's Big Questions? Find out more at: www.existentialofferings.com