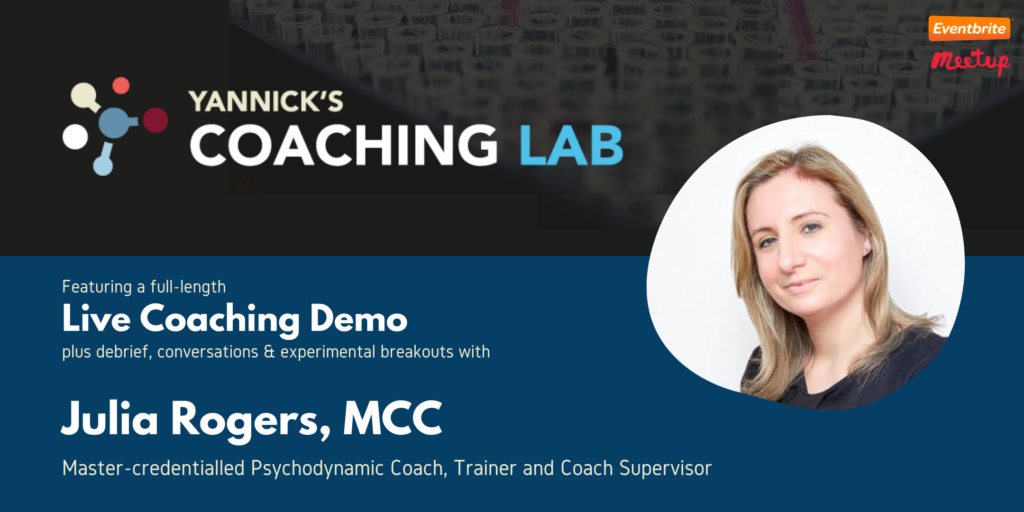 Yannick's Coaching Lab features guest coaches from a broad variety of approaches, who showcase how they work as part of a live 45min coaching session, followed by reflections and Q&A with the audience.
Curious to know what this session was like? Have a peek at the Lab Report below or consider VIP membership to access the full recording of this and many more exciting sessions.
---
Yannick's Coaching Lab #37 — Julia Rogers
Lab Report by Natalie Fraser
Summary

Julia Rogers is a psychodynamic coach. She is an ICF Master Certified Coach (MCC) as well as a
trainer and coach supervisor. She believes that coaching wouldn't be here if it wasn't for Freud, and is
on a "one woman mission to bring Freud back".

Julia's client came with a desire to reconnect with his three children following a successful career, a
divorce 8 years ago, a period of doing some "daft things" in the aftermath, and a recent prostate cancer
diagnosis.

Coach and client had a brief check-in a few days before this session for some basic contracting. The
client joined the session not having an understanding of what coaching really was but expressed feeling
the positive energy from it and was looking forward to it.

Key Insights

Goal-Setting Questions
Aligned with the ICF framework, Julia made sure that the goal was set clearly and that they both
worked towards this during the session. His goal was set to translate the many thoughts in his head into
a plan he could take action on.

Can I make an observation?
After her client outlined his story and began revealing his challenges, Julia made sure to ask her client's
consent before sharing that she sensed some "guilt". This resonated well and seemed to hit a spot.

Scaling the plan
"That's where you want to be, where would you say you are at the moment?"

Sharing theory
Julia used the sentence "I'm wondering how useful a bit of theory would be for you?" to ask the
client's consent to move into a more tutor-style role for a moment, and then went on to share the
defense mechanisms that she noticed at play in her client's narrative, which she emphasized were
normal.

Defense mechanisms
Julia linked the client's goal to the theory which she noticed at play.
"What would your plan look like and what would it look like for you to take down your defenses?"
This prompted the client to think about how things may play out if he were to "drop his shield".
Some helpful questions to support the coaching process
Establishing Success Criteria: "How will you know if you're getting it right?"

Check-in: "How are we doing at getting your plan in order?" (this helped the client to access a deep
truth that he probably knows what to do but is scared of getting in wrong).

Choice: "There is a school of thought that says that taking no action is still an action." Julia validated
why the client has their defenses up and that there is a block, whilst trying to help him understand his
block more.

Exploring obstacles: "What is getting in the way of you putting down a plan?"

Key learnings: Julia ended the session asking her client to reflect and summarise his key learnings from
today's session. She followed this by asking her client to reflect on what will help him keep on track to
achieve this goal, and what if anything might get in his way.

Assess and Address technique to reduce anxiety and fear
Julia validated the block and offered a piece of knowledge and experience in that most blocks are based
on fear. She suggested the anxiety reduction 'assess and address' technique for her client to start
exploring his fear.

Acknowledgement
"I just wanted to acknowledge how hard you've worked today. That was a lot of thinking. Thank you
for allowing me to be here with you." Julia then invited her client to end the session, asking "how
would you like to close today's session?"

Key Take-Aways

The act of engaging in the session itself was meaningful for the client, who expressed that this would
motivate him to follow through on his plan rather than just think about it.

Julia actively took time to pause when she recognized that she knew what to say but didn't want to be
leading in how she phrased the question.

Julia highlights the importance of recognizing what is going on for herself as a coach, and reflecting
whether her questions are related to herself or her client. From a psychodynamic perspective the coach
needs to pay attention to their own past and present relationships and they might "show up" in the
coach-client relationship through parallel processes and transference.

Julia decided to be quite gentle with the client and not push into much psychological depth in a first
session. Her rationale for this was psychological safety and the importance of not moving too fast when
it comes to working psychologically with clients.

The client's recent cancer diagnosis was not part of the exploration as the client did not make it a topic
for discussion, despite some relevant links to the coaching goal. This may be part of future
conversations if they were to happen.
---
Watch the recording of this session by joining the Lab as a member: www.GoCoachingLab.com
A list of all available recordings can be found at https://bit.ly/LabRecordings
---
This Lab Report was authored by Natalie Fraser
Natalie is an existential Counselling Psychologist, specialising in trauma and transformation, and curious about coaching. Interested in exploring life's Big Questions? Find out more at: www.existentialofferings.com